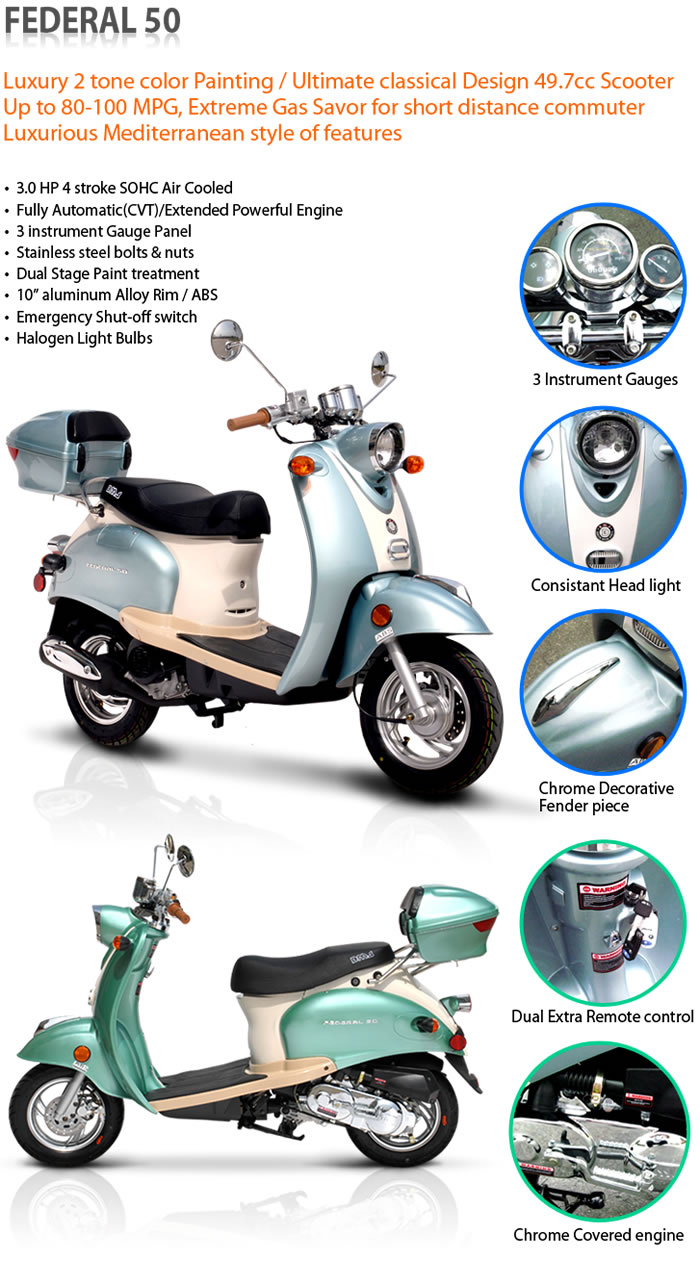 SPECIFICATION

ENGINE INFO

Engine type 

4-Stroke,single cylinder,

Engine brand 

*

Displacement 

50cc

Air cooled

Max horsepowe 

3.00HP

Max torque 

3.01

Bore*stroke 

38.00 X 40.00mm

Max speed 

25.00mph

Compression Ratio

10.50 : 1

Ignition 

4 Stroke

Starting system 

Electric/Foot

Transmission

Automatic Type(CVT) / Belt Drive

Lubrication

Pressure Spray

Engine oil 

SAE 10W/40 Capacity 0.8L

Gear oil 

*

CHASSIS ETC 

Front Suspension

Dual Telescope Forks

Rear Suspension

Rear Coil Over Shock

Front Tire

3.50-10

Rear Tire

3.50-10

Brake (front/rear)

Disc/Drum

 Load Capacity

 200 lbs

DIMENSIONS

Wheelbase 

48.00 inches

Overall L x W x H

67.0 X 26.0 X 41.0 inches

Seat Height

29 in

Ground clearance 

7.00  in

Fuel Capacity

1.60 gallon

OTHERS

Frame

Steel

Battery

12V/7AH

Government Certifications

EPA(Carb including under 50cc)

Age Restriction

16 years or older

Package Size

68.0 X 23.0 X 46.0in
PRODUCT DETAIL
CLASSIC VESPA RETRO STYLE SCOOTER
A TOTALLY EYE-CATCHING SCOOTER THAT'S PERFECT FOR CRUISING THROUGH TOWN OR DOWN TO THE BEACH. A TRULY CLASSIC VESPA LOADED WITH CHROMATIC UPGRADE (WHEELS HANDLE BAR, BRAKE COVER, REAR VIEW MIRROR, REAR RACK, FOOT PLATE AND BODY TRIM)

HONDA GY6 CLONE 4 STROKE ENGINE
POWERFUL HONDA CLONE GY6 49CC 4 STROKE SCOOTER ENGINE COMES STANDARD WITH TWO OVERHEAD VALVES. THE ENGINE WAS ORIGINALLY MANUFACTURED IN 50CC, 125CC, AND 150CC ENGINE SIZES AND WAS FOUND IN THE HONDA ELITE AND SPACEY LINE OF MOTOR SCOOTERS. WITH VARIOUS SOURCES OF THIS ENGINE IN BOTH HONDA PRODUCTS AND NEWER ASIAN IMPORTS THERE ARE A VAST AMOUNT OF REPLACEMENT PARTS, MODIFICATIONS, AND PERFORMANCE PARTS AVAILABLE IN THE MARKET

MULTI-START SYSTEM (ELECTRIC PUSH-BUTTON START & KICK START)
SCOOTER PUSH-BUTTON START COULDN'T BE SIMPLER. RELIABLE KICK START PROVIDES A PIECE OF MIND FOR BACKUP ALL THE TIME

SCOOTER BRAKE SYSTEM (F/DISK & R/DRUM)
HIGH QUALITY DISC BRAKE (FRONT) W/DURABLE LONG LASTING DRUM BRAKE (REAR)

MASSIVE STORAGE SPACE
LOCKABLE STORAGE COMPARTMENT UNDER THE SEAT ( FITS SCOOTER HELMET) AND FREE LOCKABLE CARGO TRUNK (FITS SCOOTER HELMET & MISC. ITEMS) INCLUDED.

SCOOTER SEAT HEIGHT AND CAPACITY
SCOOTER SEAT HEIGHT: 29 INCH; SCOOTER WEIGHT CAPACITY: 300LBS

STREET LEGAL
THIS MOTORCYCLE/SCOOTER IS REGISTRABLE WITH DEPARTMENT OF MOTOR VEHICLES AND LEGAL TO OWN AND OPERATE IN THE PUBLIC ROAD IN ALL STATES EXCEPT CA. MCO (MANUFACTURE CERTIFICATE OF ORIGIN, STICKERS, AND ALL NECESSARY REGISTRATION DOCUMENTS WILL BE INCLUDED WITH YOUR PURCHASE.
US DOT (DEPARTMENT OF TRANSPORTATION) APPROVED
US EPA (ENVIRONMENTAL PROTECTION AGENCY) APPROVED
UNIQUE & GENUINE FACTORY 17-DIGITS VIN NUMBER (THIS BIKE CONFORMS TO U.S. FEDERAL MOTOR VEHICLE SAFETY STANDARD FMVSS)
Feature
Clear and Direct Instrument Panel:


You can easily and clearly view the speedometer, turn signals, fuel gauge and battery gauge making for a more efficient ride.

Spacious Storage Unit:
Lockable and secure, under the seat you can find room to store many things while you commute from place to place.

Headlights:
Bright enough to get you through any time in the evening. Beautifully designed to catch your eyes.

Left Handle Grip Control:
Conventionally located near your hand grip to control the headlight beam, turn signals, and horn.

Electric/Kick Start:
With two ways to start your scooter; it is always great to have reliable back-up in any situation.

Durable Seating:
Have an enjoyable ride resting on this very comfortably padded seat.

Rear Lockable Luggage Trunk:


In a addition to the storage unit under the seat and glove compartment; we offer you a secure/lockable storage pod that is detachable free on our Store.

Dynamic Front Disc Brake:
Powerful and durable front disc provides excellent braking at any speed; giving you the safety you need.

Taillight:
Emitting bright light so all drivers behind you can see you even in the darkest of nights.

Right Handle Grip Controlm:
Conventionally located near your hand grip to control the speedometer light, kill switch, and electric start button.

Dependable Rear Drum:
Reliable rear drum allows for smooth stopping at any given moment.

Air Cooled Single Cylinder Four Stroke Engine:
With a fully automatic transmission this compelling engine provides power and control.